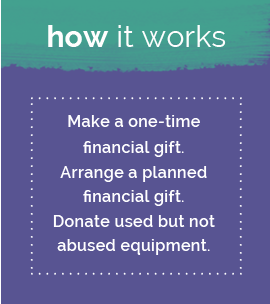 CIAF® was started in 2005 by Michelle Tjelmeland as a way to pay forward the blessings she and her family have received. As the foundation has grown, that Pay it Forward mentality has grown exponentially. District 23 and each CIAF™ fundraising effort has always been staffed with dozens of enthusiastic volunteers.

CIAF® continues to be supported by generous individuals and community sponsors who report the joy of giving to the foundation's efforts has blessed them each in numerous ways.
How can you pay it
forward with CIAF®?

One-time Financial Gift
To support CIAF® with a one-time financial gift, please click HERE. Your donations are processed securely through PayPal.

Planned Gifts
CIAF® has over a decade of proven commitment to helping people hear and we will continue this mission long into the future. Your planned gift will help make it possible to not only continue the work we do now, but to expand our reach with fresh initiatives moving forward. Your legacy can help restore the gift of sound to those isolated by hearing impairment.
Planned gifts include: wills/bequests, life insurance, pooled income funds, and charitable remainder trusts. These donations can mean tax savings, income streams, and investment benefits to you and your family. Planned gifts can be made in any amount and are customarily arranged as provisions in the donor's will with the assistance of an attorney and/or the donor's financial advisor. Those wishing to make such a gift to CIAF® are strongly encouraged to consult appropriate professionals.
To specifically discuss your planned gift with us, please first contact us by email using this link:
Language for your will:
I give, devise, and bequeath to the Cochlear Implant Awareness Foundation®, an Illinois charitable corporation, the sum of $______________ (or a description percentage of the specific asset) for the general purposes of helping support the foundation's efforts to provide information, resources, support, and understanding to current and prospective cochlear implant recipients and their families.
Did you know it's possible to make a planned gift while you're still living? You can do so through life insurance and charitable remainder trusts. Discuss the benefits to you and your family with your financial planner.
Hear Again ™ Program -
Recycle. Repurpose. Resound.
To donate used but not abused cochlear implant equipment like processors, cables, cords, batteries, and accessories to our Hear Again ™ program, including discontinued models, click here! Or simply send your donations

CIAF
Attention: Donations
830 South Grand Avenue West
Springfield IL 62704
Shopping for a Cause at District 23 Boutique
What could be better than shopping AND contributing to a great cause at the same time? We can't think of anything!
District 23 was established in 2012 as a vehicle to educate people about the work of CIAF®, while financially offsetting operational costs of the foundation.
Proceeds from District 23 go directly to the foundation to cover costs associated with:
Insurance
Coordination staff
CIAF™ facilities
Office equipment, including computer hardware and software
Refurbishing and sanitizing donated equipment
Packaging and shipping
District 23 Springfield Location:
830 South Grand Avenue West
Springfield IL 62704

HOURS: Monday - Friday 10:00am - 6:00pm
Sat 10:00am - 4:00pm
Sun 12:00pm - 4:00pm
Shop online and learn all about District 23 and the people behind its unprecedented success at www.district23.com.
Be the first to see new merchandise and hear about sales and special events! Follow us on Facebook!
Support us through

You shop. Amazon gives.
Amazon donates 0.5% of the price of your eligible AmazonSmile purchases to the charitable organization of your choice.
AmazonSmile is the same Amazon you know. Same products, same prices, same service.
Support your charitable organization by starting your shopping now!